Total Solar Eclipse - April 20 2023 
Travel on adventure with ME for a 14 day adventure from Perth to Exmouth to Perth.  More info coming soon :-)
 from : - skyandtelescope.com
How far would you travel for 76 seconds of totality? On April 20, 2023, the next central eclipse of the Sun takes place across the Indian Ocean and the Timor Sea. This unusual "hybrid" solar eclipse will only be observable from one town in Western Australia as well as Timor Leste and West Papua. Here's why you should travel to witness the warm-up to 2024's "Great North American Eclipse."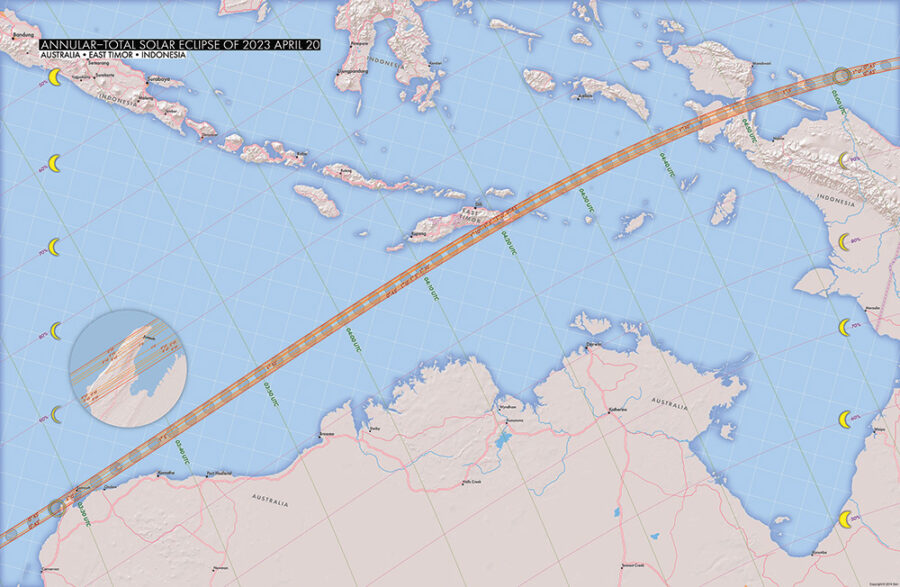 WHAT IS A HYBRID SOLAR ECLIPSE?
A hybrid eclipse is also called an annular-total eclipse. During a total solar eclipse, the tip of the Moon's cone-shaped shadow touches Earth, so Earth observers see the Sun's disk fully covered. But during an annular solar eclipse the cone stops just short of Earth's surface, so we see a "ring of fire" around the Moon's silhouette instead. Occasionally, both types combine, when the cone-shaped shadow touches Earth for only part of the eclipse.
"By classical calculations, this hybrid eclipse is annular at both the beginning and end of the central path," says Michael Zeiler, the New Mexico-based eclipse cartographer who edits GreatAmericanEclipse.com and coauthored the Field Guide to the 2023 and 2024 eclipses. "However, when calculations are made for the precise shape of the Moon's surface, there is no annular eclipse at the beginning of the central path and just a very short annular eclipse, no longer than five seconds in duration, at the end of the central path."
With a maximum duration of 76 seconds this solar eclipse is longer than most hybrids. It's actually the longest one until October 17, 2172. However, the event will be almost entirely experienced as a total solar eclipse, and in terms of total eclipses, this is one of the shorter ones — albeit with an extended display of Baily's Beads, as seen in this simulation.
WHERE TO SEE THE 2023 ECLIPSE
The path of the Moon's shadow will move mostly across the Indian Ocean and Timor Sea, making land only at Exmouth in Western Australia, again at Beaco in Timor Leste and then, after crossing the Banda Sea, a remote part of West Papua. The path then races across the Pacific Ocean, ending as a beaded solar eclipse close to the Marshall Islands. Viewers there will see a broken annular eclipse, in which the "ring of fire" is broken by lunar mountains for just a few seconds.
If you're itching to see this one, the best bet is to go to Exmouth Peninsula in Western Australia or travel via cruise ship on the nearby Indian Ocean.
The reason is the weather. "The overriding character of the Exmouth area is its sunshine," says Canadian meteorologist and eclipse expert Jay Anderson on his website. Totality will reach Exmouth (population 2,500) at 11:29 a.m. Australian Western Standard Time (AWST). People near the center of the path there will enjoy 62 seconds of totality with the Sun 54º high in the sky. Anderson calls a clear view of the eclipse on Timor-Leste "a bit of a challenge," while statistics for Papua are "downright discouraging."